If you're getting tired of all the hype and parodies and tributes that have gone towards the Star Wars series, you can take comfort in the fact that it will probably be over by the end of January when it gets out of movie theatres and starts going into production for release on Netflix, Blu-ray and DVD.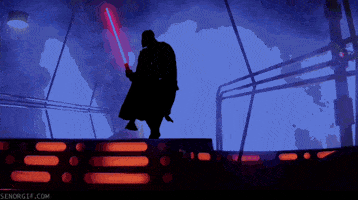 But in the meanwhile, allow us to throw yet another hilarious Star Wars montage. In 2010, Disney's Hollywoods Studios had a weekend festival called Star Wars Weekends in which the main characters would come out and perform a variety of hilarious acts!
Sometimes, if you're lucky, you'll see the characters duel it out over dance-offs instead of whipping out their life-threatening lightsabers. Darth Vader finds himself in a tight spot, and needs to get his confidence back so that he stands a chance in the dance-off. So with the aid of his loyal Stormtroopers, he busts a move to the popular Michael Jackson song "Beat It!"
For an evil sith lord, this guy sure knows how to dance to the beat and pull off some sick moves! I have to admit that I even started dancing along with him near the very end! Me, grooving with an evil figure..who thought it would ever happen?
LIKE and SHARE this hilarious dance routine on Facebook and Twitter!